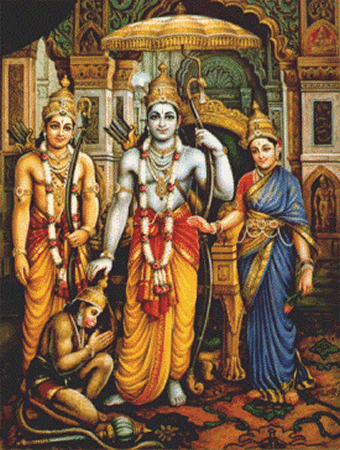 MUSIC & DANCE FESTIVAL
(MUSICAL RAMANAVAMI UTSAVAM)

Ramanavami is a day to commemorate the birth of Lord Rama during Shukla Paksha of the Chaitra month. This year it falls on April 4th, 2017. This is one of the holy and famous festivals celebrated all over India and the world. The celebrations include music and dance festivals. In keeping with that tradition for the 22nd year in Austin, we plan to have a music and dance festival with extensive community participation. The function is slated for April 8th, 2017. You are cordially invited to attend, with family and friends.

Talented vocalists, dance teachers and students will perform. Although the program is open to the public free of charge, we will appreciate liberal donations to defray organization costs. Snacks will be available during the duration of the entire program.

As in previous years, we have an essay competition - we invite submissions for a write up on the themes selected from The Ramayana. There will be 2 categories of submissions - ages 7 to 11 and ages 12 to 16. The article should not exceed 500 words.

The last day for entry is Feb 15, 2017. The chosen articles will be published in the IFA Website, in the prestigious Katha foundation newsletter, cash awards and appropriate personal recognition will be given.

If you have any questions, please contact IFA (512-918-1351) or indiafinearts@hotmail.com

We hope you will attend this fantastic cultural and community-based program and receive Lord Rama's blessings.
Note: If there are not enough entries , the essay competition will be cancelled

Click here for the Essay Competition Registration Form

Registration Deadline: February 15th, 2017. Please remember to email your registration to rama.essay2017@gmail.com, jnagarajan@aol.com or mail to: 9917 Spicewood Mesa, Austin, TX 78759. Do not forget to attach your registration fee ($10.00) with your registration. Please make all checks payable to "India Fine Arts". You may also make this payment using PayPal below ($10.50):




Rules and Guidelines :

Registration is mandatory to participate in the essay competition (please use the registration form attached below – you may also find this registration form on the IFA website –www.austinifa.org – and at the Austin Hindu Temple)

1. Registration fee is $10.00 per entry and should accompany the registration form

2. There are two categories for participants: o Group I: Ages 7-11 o Group II: Ages 12-16

3. The essay should be about Lord Rama and should be written relevant to the titles below:

Group I: In the great epic Ramayana,Lord Rama has 3 brothers namely Bharatha, Sathrughna and Lakshmana. Choose the brother you like the most explaining why. Also describe the role played by him in the story of Ramayana

Group II: The great epic Ramayana was written by Valmiki around the second century B.C. To this day, it has retained its universal appeal and a unique hold, on the people of India. Write an essay describing the role the Ramayana has played in day-to-day life. (Include both positives and negatives)

The essay should not exceed 500 words. It should be in the participant's own words. Non-original work will be disqualified (No Picture Illustration Allowed)

4. Deadline for registration is February 15, 2017. Final essays must be submitted no later than March 15, 2017. Registration at "austinifa.org" or by mail to: 9917 Spicewood Mesa, Austin, TX 78759. Soft copy of the essays should be emailed to rama.essay2017@gmail.com or jnagarajan@aol.com

5. Please note that we *will* need soft copies in Microsoft Word format to enable us to send to our judges. First and second cash prizes will be awarded in each category. Prizes will be awarded at the Ramanavami Utsavam. Participants must be present. Please email rama.essay2017@gmail.com in case of any questions.

Click here for the Essay Competition Registration Form



Ramanavami Cultural Participation 2017, Participation Rules and Registration:

1. We would like to receive entry applications from the teachers of music and dance schools, not from individual participants

2. We are only accepting group performances, no solo performances(small episodes from the story of Ramayana is welcome)

3. Only intermediate and advanced performers will be considered

4. The theme of all performances should be on Lord Rama

5. Duration of each performance will be decided after all entries are received, and is dependent on the number of entries

6. The deadline for application is March 10, 2017

7. There will be a registration fee of $10.00 for each person participating in the program and should be sent along with the application
a. This fee is per participant, regardless of the number of groups he/she participates in
b. Teachers or Team Leaders are responsible for their group's registration fee
c. This fee goes to cover the costs of organizing the event

8. Programs are decided based on a first-come first-serve basis - therefore, please do not wait until the last minute to apply

9. The Ramanavami Committee will decide on the selection of programs. All decisions made by the Committee are final

Event Sponsored By India Fine Arts, Austin,Texas

Click here for the Registration Form

Registration Deadline: March 6th, 2017 Please remember to mail your registration to: 9917 Spicewood Mesa, Austin, TX 78759. Do not forget to attach your Group registration fee ($10.00/per participant in the Group) with your registration. Please make all checks payable to "India Fine Arts.